Occasionally I've had customers ask what my 3D printing setup looks like. Until recently it was not something that was worthy of a photo, looking very much like a business that really hit its stride in 2020 😛 As we've grown, I recently had some extra funds and time to improve it to something that, while still modest, is something I don't feel so embarrassed to share.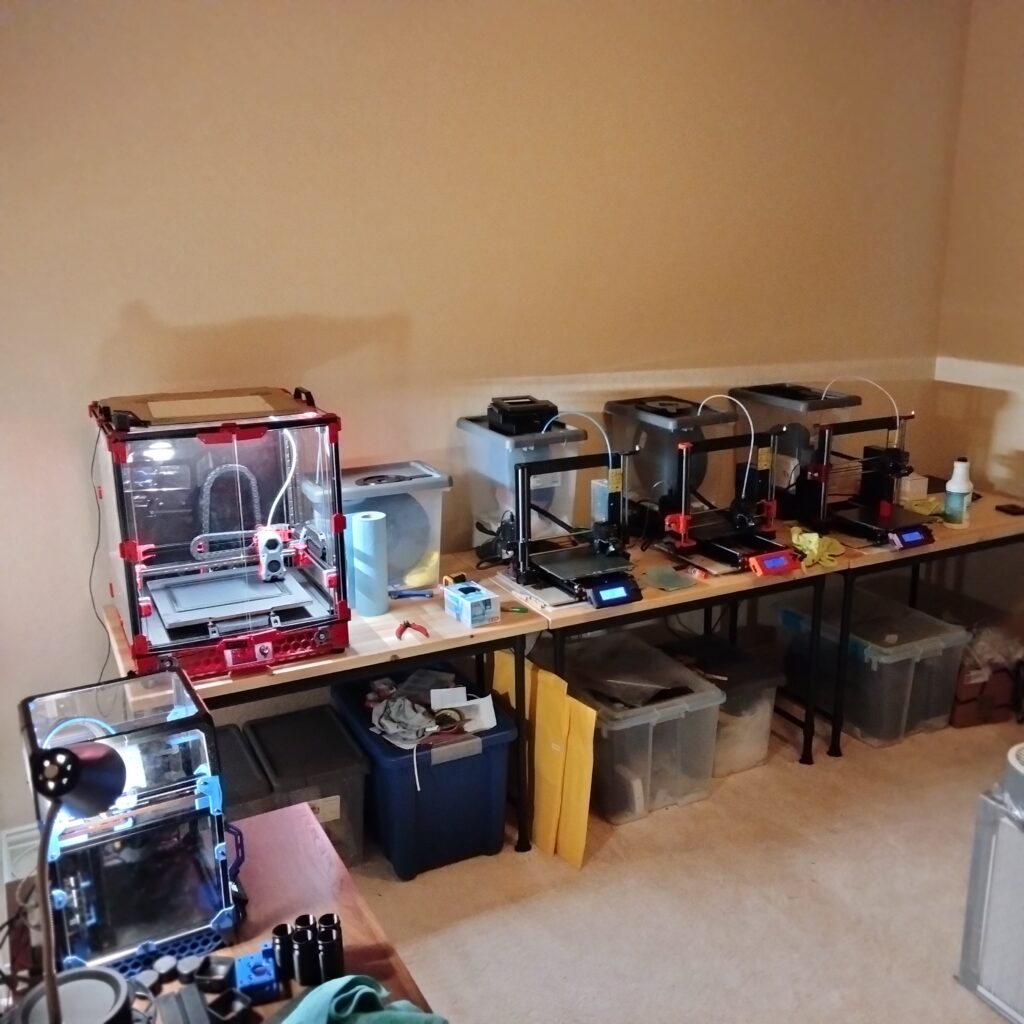 This is where most of the print magic happens! Just off the frame is a Corsi-Rosenthal box (a fancy way of saying a box fan with filters) to help pull out particulates. Out of frame on the left there is an AirGradient with a VOC sensor to detect presence of volatile organic compounds (VOCs). This is mostly for when printing ABS, which the printer on the bottom corner, a Voron V0.1, mostly does (it's what prints the smaller tin-type stands, the lens hoods, and the 120 film canisters, spare printer parts).
The big honking printer left-center is my Voron 2.4. It's for 8×10 Simpleasels and my Eurorack stuff (that's over at bitbybitsynths.com). Next to it are my 3 beloved Prusa MK3 workhorses. The first two print most things. The last one mostly does my PETG prints (drying racks, lens discs, filter trays, blank Eurorack panels).
Most of the time I have anywhere between 3-5 printers running. I'm getting to the point where I could use a 6th. The next printer I plan to add is a Prusa XL so I have 2 printers that can make big things. After that, I might be pushing against power limits but there is some space in the other corner out of frame for another printer (perhaps an MK4, or a 300 Trident) as well as another small one on that desk with the V0 (perhaps another V0 or T0). I can also likely cram more MKs sized printers in once I get the dry boxes up on a shelf or hutch, depending on how much space the XL may end up taking.
Modest by full time print shop standards but for folks that were curious where their products are made, it's in this room. Unless I'm laser cutting something. That's in the garage and a story for another day…